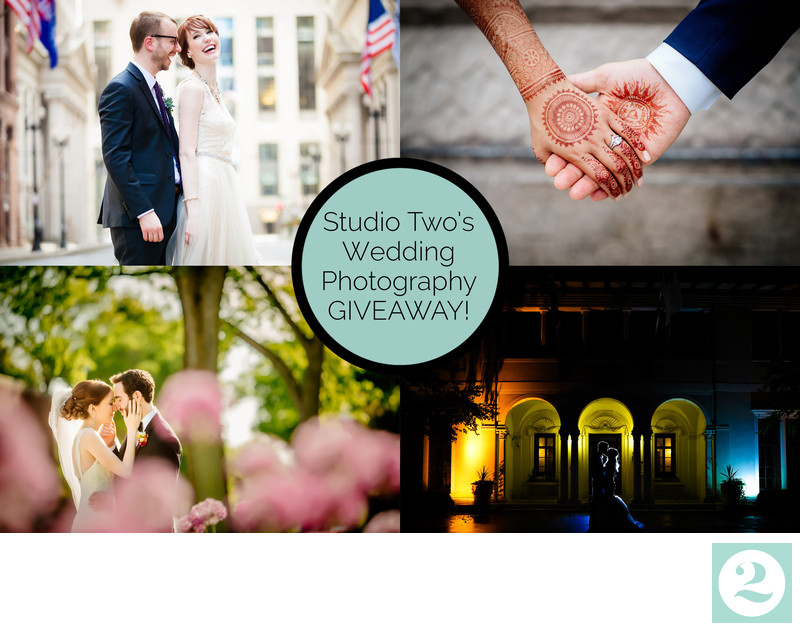 Welcome!




We are Liz and Elena, two friends and wedding photographers who discovered that photo magic happens when we work as a team. Together we began Studio Two, a boutique wedding photography studio serving destination wedding couples in the US and around the world. Studio Two's clients truly love photography, and they hire us to push the boundaries of the industry and make amazing images.





The Giveaway


To celebrate Studio Two's launch, we are giving away a full day of wedding photography services (an $8000 value!) to one lucky couple getting married in Spring or Summer of 2016. Entries must be completed by 11:59pm on November 1st.

The winning couple can be located just about anywhere in the world and getting married in whatever kind of crazy or traditional way they'd like! The only requirement is that you be madly in love. If you value photography and want your story beautifully captured, we'd love to hear from you!

---
Entering is simple. Take a moment to think about the questions below and share your story with us:

Bonus Question: We like to put a face to a name! And we want to know the kind of pictures that speak to you. It's not required, but we'd appreciate it if you'd send a picture of yourselves that you love. Why do you love it? What does it say about your relationship or your story?

Send your answer to hello@studiotwoweddings.com with "Giveaway - YOUR NAME" in the title!
What next? After the deadline, we will go through each and every submission and choose a small number of finalists to interview via Skype or Facetime. Then we'll pick the lucky winning couple, who will be featured on our Facebook Page!
---
"With passion, dedication, creativity, and style, Elena Bazini tells the most beautiful love stories that perfectly capture the essence of every couple she photographs."
- Junebug Weddings

"A passionate and humble photographer who stays true to her aesthetic rather than following photography trends, Liz Lui... seamlessly captures the emotion and feel of your big day, along with the incredible fleeting moments that pass by so quickly."
- Junebug Weddings

"Liz, can't put into word how amazing [the photographs] are -- you and Elena killed it! You did such an amazing job capturing all the moments of the day, big and small. We expected no less from you, and yet you still blew our expectations out of the water! As Mason and I looked through the photographs, we could recall what we were thinking or saying just from the expressions on our faces -- and those memories would have been lost without your skill to record it all!

Thank you thank you thank -- to both of you!"

- Aravinda & Mason
---
---
Wedding Photography Giveaway Terms and Conditions:
• Subject to availability. Liz and Elena must both be free for your date and any surrounding travel dates.
• Contestants cannot be personally associated with Studio Two Weddings.
• The prize is one full day of wedding photography coverage up to 10 hours by Liz Lui and Elena Bazini of Studio Two Weddings.
• Studio Two Weddings must be the exclusive photographer for your wedding. Contestants cannot have already booked another wedding photographer.
• Couples whose weddings will take place in Chicago, IL, Seattle, WA, or the surrounding areas are not eligible.
• Standard travel fees apply. Winner must cover the cost of two economy-class flights, 2 nights hotel stay, and a rental car.
• Contestants must be 18 years or older to enter.
• Contestants must be getting married between January 1st, 2016 and August 31st, 2016.
• Contestants may enter for themselves or be nominated by somebody else, but only one entry per couple is allowed.
• Past and current clients of Studio Two Weddings, Liz Lui Photography, or Elena Bazini Photography are not eligible.
• By entering this contest, you promise that all information provided by you is true, current, and complete.
• All entries must be submitted electronically before 11:59pm on November 1st, 2015.
• Incomplete entries will not be accepted. Studio Two Weddings is not responsible for any malfunction or failure to submit of any entry, whether via email or the website form.
• By entering, contestants agree to participate in an interview via Skype or FaceTime should they be selected for the final round.
• The winner will be selected by Liz and Elena based on availability and their subjective opinion of which entry represents the best match for Studio Two Weddings. All decisions are final.
• By entering, contestants understand and agree that the selected contestant must sign Studio Two Wedding's standard wedding photography contract in order to be finalized as the winner and claim their prize. If a selected contestant does not sign the contract and claim their prize within 7 days of selection, another contestant will be selected to win the prize.
• All travel fees must be paid upfront at the time of signing the wedding photography contract and within 7 days of selection. Any selected contestant who does not pay the travel fees at this time forfeits his or her prize, and another contestant will be selected as winner.
• Winners will receive a link to download the high-resolution files from the final, edited wedding day photography collection within 8 weeks following their wedding.
• It is the responsibility of the winner to maintain the digital files after the delivery of the download link. The photographs in the collection are selected and edited in accordance with the subjective standards of Studio Two Weddings. The photos in the final collection may not be altered in any way without the written permission of Studio Two Weddings.
• The prize and discounts awarded cannot be sold, traded, transferred, or exchanged for cash or any other item or service.
• Contestants agree that their wedding photography and personal likeness may be used for promotional purposes by Studio Two Weddings, Elena Bazini Photography, and Liz Lui Photography in any way and in any form or media.

• The copyright to all photographs produced at the wedding remains with Liz Lui and Elena Bazini of Studio Two Weddings. They will also retain the copyright to any and all marketing materials and derivative works created from the photographs.
• All federal, state, and local taxes, fees, and surcharges are the responsibility of the prize winners.
• Void where prohibited.